Dambuk, Arunachal Pradesh: When people think of places to visit in Arunachal, the first destinations to pop are Tawang or Ziro. However, search a little more, and you will quickly realise just how spoilt you are for choice. Take south Arunachal, where you will witness undulating hills covered with orange orchards when travelling along the Dibang river on the National Highway 13 to the Lower Dibang valley.
Nestled in this valley in Dambuk is the 'orange bowl' of the state. The sub-Himalayan weather makes this region ideal for growing Oranges, and the fruit is cultivated over 12,000 hectares of land in just the Dambuk subdivision, with an annual production range between 50 and 60 metric tonnes from just one subdivision.
The town is also famous for the Orange Festival of Adventure and Music, a flagship event celebrated every year. Tourists from across the country indulge in adventure activities, alongside promoting the home-grown Khasi-mandarin oranges.
History of Orange farming in Dambuk
Oranges in Dambuk owe their origin to a farmer named Pankeng Pertin, who, in 1979, first started planting orange trees in his land. Although he is now called the founder farmer of orange cultivation in Arunachal Pradesh, his idea did not gain popularity until people saw him reap the results of his hard work much later.
A decade or so later, the Lower Dibang Valley region saw a wave of farmers who began cultivating oranges in their farms and began to reap good harvests, a practice that continues to this day.
How profitable is orange cultivation?
Farmers with about a thousand trees or more can earn between Rs 15 and 20 lakh a year. Tony Borang, a Zilla Parishad Member and veteran cultivator, initially made Rs 3.5 to 4.5 lakh a year, but last year he made 9 lakh from his produce.
"We do not do an economic assessment of our produce like most communities in the north…we are tribal people, so we just auction our produce in our farms for a lump sum amount," Borang told EastMojo.
"Buyers come and verify our gardens and calculate the value of the produce after which we (farmers) give them a rate," Borang explained the system, adding that the farmers got the first say, after which the buyers negotiated the price.
Have sellers benefitted?
The farmers in Dambuk may have seen their fair share of wealth from Oranges, but what about the sellers in nearby towns who carry local produce to those within the state? EastMojo spoke with vendors in the nearby town of Roing, about 20 km from Dambuk.
"I have been selling oranges for 12-13 years now. This time it is the end of the season so there is nothing much left, so the ones I am selling here are from Along," said Jyoti, a seller who sells oranges at about Rs 100 a kilo.
"I sell oranges from Dambuk here in Roing, and I can guarantee that you will not find sweeter oranges anywhere around here," said Duli Pasing who lives in a nearby village.
On being asked if she has benefitted from the Orange festival in Dambuk, Jyoti said, "I did not know that the festival was being organised this year as it usually happens in the winters. Had I known earlier, I would have taken these oranges there and earned good money."
On challenges of plucking oranges, Jyoti said that roads do not go up to the orchards, and they have to toil to bring the produce downhill. In addition to this, she often has to face the wrath of red ants on these trees. "It is hard work but it fetches us enough money," she added.
Spicejet's agriventure
There used to be an export house from Kolkata which looked into the export of the produce from Arunachal to other countries with Spicejet as their logistics partner. The venture must have looked profitable to the airline company as they soon removed the exporter from this channel and took total control over the export of oranges from Dambuk.
"Spicejet launched a new brand called Spice fresh and began to market Dambuk oranges directly. They set up an establishment near Digboi and are doing cold storage and packaging there," Abu Tayeng, Director of Tourism, who also hails from Dambuk, told EastMojo.
Dambuk's Khasi-Mandarin oranges were only going to Bangalore earlier due to logistical challenges, and Spicejet stepped in to connect farmers directly with the consumers. Today, Dambuk Oranges are even exported to Dubai, Singapore and other countries.
What led to the recent decline in production?
Off late, it is being said that the quality of the produce from Dambuk has declined. When asked about the same, Tony Borang informed EastMojo that one of the major problems ailing the farmers of Dambuk and Lower Dibang Valley is that they do Monoculture or single-crop cultivation. This he believes is due to a lack of scientific knowledge.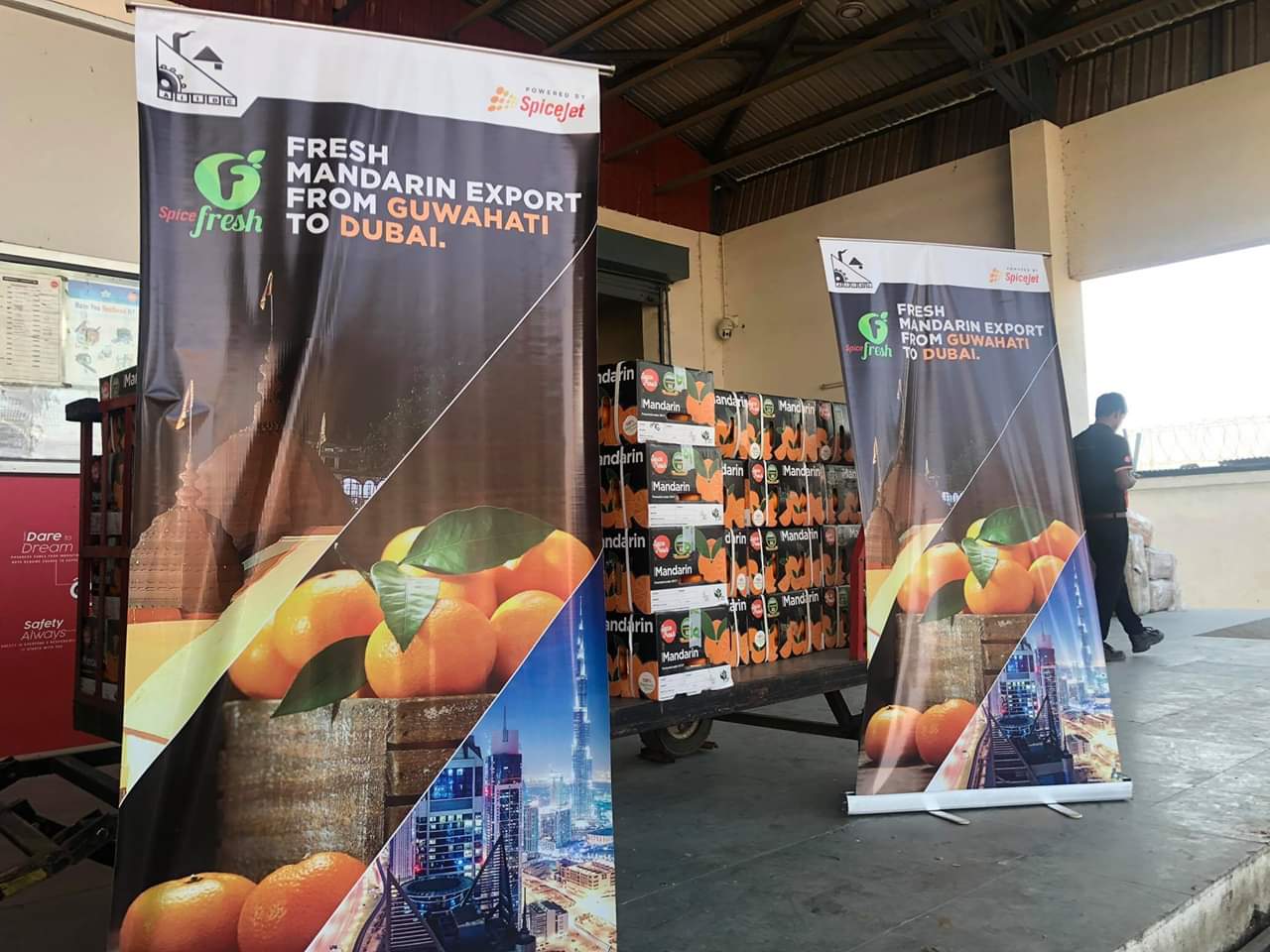 "Our tribal people only planted oranges in their farms, due to which the crop is getting bad. Planting only oranges on an entire hill degrades the quality of soil and has all trees reaching out for the same nutrients," Borang said.
To find out what is being done to solve this problem, EastMojo spoke with Pema Khandu, Chief Minister of Arunachal Pradesh, who said, "Oranges of our region are very popular and are also exported to other countries but sometimes the production is low. Our focus in the state is on oranges and kiwi."
The government has announced research centres in the region or orange and for Kiwi in Ziro informed the chief minister. "Farmers must be backed by the technical know-how, which is only possible through research. I think we should be able to solve this problem in the coming days and meet the demands," Khandu added.
State horticulture minister Tage Taki said the department is aware of the decline in orange production, which was attributable to various factors like low water table, lack of maintenance, inadequate manure application as well as age of the trees. An orange tree can produce fruits up to 40 years on average, he said.
Off-roaders set adrenaline racing in Arunachal's Dambuk