What's the claim?
A list of 45 brands has been circulating on social media, with users alleging that these brands are Israeli. The post is being shared to call for a boycott of the brands and their products. The list's title reads, "BOYCOTT ISRAELI PRODUCTS/ BRANDS."
The brands are from several industries, including food, beauty, and clothing – some examples are Starbucks, Nestlé, Nescafé, Coca-Cola, Sprite, Fanta, Mountain Dew, and Pepsi. Several users shared the list on Facebook, with one such post gaining 166 shares and 146 likes.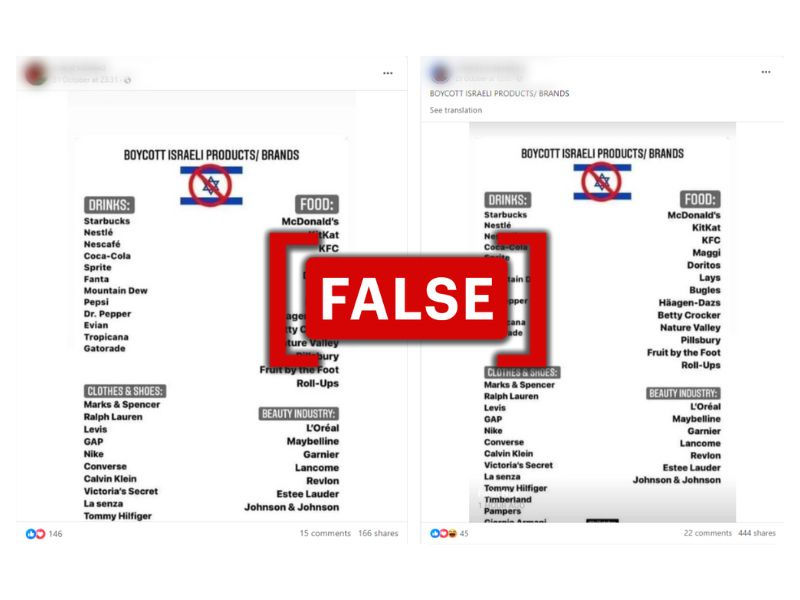 However, the list features international brands from several countries unrelated to Israel.
What we found
The 45 brands mentioned in the viral post are primarily from four industries – beverages, food, apparel, and cosmetics. Upon review, we found that none of the brands are from Israel, and most are from the United States.
Beverages
Twelve brands and products named in the viral list are from the beverage industry. These are Starbucks, Nestlé, Nescafé, Coca-Cola, Sprite, Fanta, Mountain Dew, Pepsi, Dr. Pepper, Evian, Tropicana, and Gatorade.
Nestlé is a Swiss multinational food and drink processing conglomerate. It is headquartered in Vevey, Switzerland. Coffee brand Nescafé is also part of Nestlé.
Coca-Cola is a soda manufactured by the Coca-Cola Company, an American multinational corporation founded in 1892. The company also produces the soft drinks Sprite and Fanta.
Pepsi and Mountain Dew and sports drink Gatorade are produced by PepsiCo, which is an American multinational food and beverage company formed in 1965 through the merger of Pepsi-Cola and Frito-Lay. The drink Tropicana is produced by Tropicana Products, Inc., a division of PepsiCo, Inc. In August 2021, French private equity firm PAI Partners announced that it had agreed to acquire Tropicana in a joint venture with PepsiCo, becoming the majority shareholder of the transferred business.
Soft drink Dr. Pepper is produced by the American company Dr Pepper Snapple Group. French Mineral water bottling brand Evian is owned by the French corporation Danone.
Apparel
Out of the 13 brands listed in this section, 10 are American. The brands Ralph Lauren, Levi Strauss & Co., Gap Inc., Nike, Calvin Klein, Victoria's Secret, Tommy Hilfiger, Timberland, and Pampers are owned by different US-based companies and are unrelated to Israel.
Among the other three brands, Marks & Spencer (M&S) is a major British multinational retailer, La Senza is a Canadian lingerie retailer now owned by Regent LP, a global private equity firm based in Los Angeles, and Giorgio Armani S.p.A. is an Italian luxury fashion house founded by Giorgio Armani.
Food
McDonald's, KFC, Doritos, and Lay's are American brands produced by several US-based corporations.
Six brands from this industry named in the list are owned by the American multinational company General Mills. The brands are Bugles, Betty Crocker, Nature Valley, and Pillsbury, while Fruit by the Foot and Fruit Roll-Ups are products made by General Mills and marketed under the Betty Crocker brand. Ice cream brand Häagen-Dazs is co-owned by General Mills and Swiss company Nestlé.
Maggi originated in Switzerland and is owned by Swiss multinational food and beverage company Nestlé. The chocolate brand KitKat is also owned by this Swiss company.
Dear Reader,
Over the past four years, EastMojo revolutionised the coverage of Northeast India through our sharp, impactful, and unbiased coverage. And we are not saying this: you, our readers, say so about us. Thanks to you, we have become Northeast India's largest, independent, multimedia digital news platform.
Now, we need your help to sustain what you started.
We are fiercely protective of our 'independent' status and would like to remain so: it helps us provide quality journalism free from biases and agendas. From travelling to the remotest regions to cover various issues to paying local reporters honest wages to encourage them, we spend our money on where it matters.
Now, we seek your support in remaining truly independent, unbiased, and objective. We want to show the world that it is possible to cover issues that matter to the people without asking for corporate and/or government support. We can do it without them; we cannot do it without you.
Support independent journalism, subscribe to EastMojo.

Thank you,
Karma Paljor
Editor-in-Chief, eastmojo.com
Cosmetics
French multinational cosmetics and beauty company L'Oréal Group owns four beauty brands listed in the beauty section of the viral post. These four brands are L'Oréal, Maybelline, Garnier and Lancôme. Revlon and Estée Lauder are American multinational companies operating in the cosmetics and related industries, while Johnson & Johnson is an American corporation working in the pharmaceutical, medical device, and consumer goods sectors.
The verdict
A list of international brands was shared with the false claim as a list of Israeli companies. Logically Facts found that none of the 45 brands listed in the claim originate in Israel. The list mainly consists of American, Swiss, and French brands. Therefore, we have marked this claim as false.
Reference Links
Nestlé – Refutes
PepsiCo – Refutes
AP News – Neutral
Reuters – Neutral
CNN – Neutral
This article is written by Rahul Adhikari and republished from Logically Facts. Read the original article here.
ALSO READ | No, video does not show actor Jason Statham putting up Palestinian flag on his car